Sign-up for more infomation on emWave


30- Day G uarantee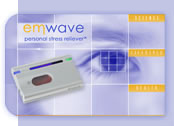 HeartMath Testimonials – People are Talking
"When I stress out, emWave® provides a quick emotional shift—a lifeline—and reminds me life is good!"
— Roberta Baskin, Peabody-, DuPont-, and Emmy-award winning investigative journalist, former Executive Director, Center for Public Integrity
"When I stress out, emWave® provides a quick emotional shift—a lifeline—and reminds me life is good!"
— Roberta Baskin, Peabody-, DuPont-, and Emmy-award winning investigative journalist, former Executive Director, Center for Public Integrity
"My emWave arrived just in time. I had one of those daily commute hassles and hadn't even opened the box yet but because it's so intuitive, I was able to learn how to use it quickly. And, I went from highly stressed to under control in just a few minutes. emWave is the ideal technology: small, light, on-demand and delivers quick results. It's always with me now."
yocan vaporizer
— Buddy Teaster, Chief Network Officer, YPO (Young Presidents Organization)
"I love the ease, size and sheer physical feel of emWave. It's so easy to use and what a great way to have heart and mind come together regardless of where you happen to be—before meetings, handling the unexpected event, and just to get a clear focus on whatever you're doing."
— Jennie Chin Hansen, RN, MS, FAAN, Senior Fellow, University of California, Center for the Health Professions
"Kiss your outdated squeezable stress ball goodbye, and welcome the emWave Personal Stress Reliever. whether that feeling in the back of your neck is from stress or just the way you've been sleeping, this clever mechanism might just have the answer."
— CNET News
"Using the emWave Personal Stress Reliever has enabled me to recognize the effects of stress on my body at any given time, which then allows me to use the HeartMath techniques to immediately help relieve this stress position. My recent tournament performances in Germany and Holland were helped by the use of HeartMath. emWave can recognize stress levels not otherwise detectable."
— Ian Woosnam, 2006 European Ryder Cup Captain and 1991 Masters winner
"Finally I've found a tool that shows me how stress hinders my health and effectiveness, and teaches me how to improve! I believe that the emWave Personal Stress Reliever is an absolutely essential tool for maintaining personal performance at a high level."
"The emWave enables you to detect when stress is limiting your cognitive and creative abilities, interfering with sleep or relaxation, or in some way hampering you. With emWave you can effectively reduce your stress to quickly regain full use of your skills and talents. I use it as part of my final preparation for important meetings, and when working on complex creative projects. Reducing the impact of these stressful situations enables me to be more confident, more creative, and more comfortable. I actually think that emWave combined with HeartMath's techniques, enables me to be smarter and sharper, at exactly the times I need to be."
"My advice is this: Keep your emWave handy, especially at work. This little Personal Stress Reliever enables you to be at your best more of the time."
— Harry Soza, Founder / Director of Product Innovation, Resolution Health, Inc.
"I had a great experience with the emWave. Whenever I felt a level of stress come on, I'd put the ear sensor on and practice. It really did help alleviate my stress!"
— Jennifer DeLeo, PC Magazine
"Our players need to get feedback on their level of coherence while they are playing golf. With the emWave, we have the tool we have been looking for. The emWave is a winner and makes it even more possible to shot a 54 in the future."
— Lynn Marriott and Pia Nilsson, cofounders, VISION54/Coaching for the future, Inc.®, voted Top 50 Teachers 2003-2004, Golf Digest
"In these highly stressful times, I find the emWave as my reconnection to reality! Racing through airports, coping with the daily barrage of phone calls and emails, and dealing with short-tempered people, it's easy for me to lose control of my emotions, forget what's important and suffer the physical side-effects of unending stress. But with my emWave I can now instantaneously monitor my level of stress and regain control of my inner self. It not only helps me calm down, but it vastly improves my performance. And what's best is that it's a cool little gadget that's easy to use and fits right in my pocket. I recommend the emWave for anyone who wants to reduce stress and take charge of their emotional well-being."
— Charles B. Inlander, President, People's Medical Society
"emWave is more than a slick piece of technology; it's part of a revolutionary HeartMath program that is both life-affirming and life-changing. This is a true 'personal communicator' that empowers us to really get to the 'heart of the matter.' I have used HeartMath's Freeze-Framer—and now the emWave—not only to relieve stress in the moment, assist in decision-making under challenging circumstances, and to 'dump all my baggage' before going to sleep, but also as an adjunct to synchronize heart, mind, and body as part of a pre-operative preparatory program. In this era where change is the constant, and stress is either the foundation or the result of most of today's dis-eases, having an effective tool to combat the effects of stress is critical. The cool part is that everyone that sees the emWave wants to try it; this is a great 'teaching moment' to promote personal responsibility for one's health using techniques and technology that are now proven to be effective."
— Alan P. Feren, M.D., FACS, President, Feren Healthcare Insights, LLC, Former Chief Medical Officer, Sutter Health Partners
"My wife, a hostess on Home Shopping Network, had a panic attack this morning. She was feeling dizzy and had shallow breathing so I put her on the emWave. Within a short period of time she was over it and it was amazing how her blood pressure went down. She was trying everything else but it didn't work."
— Dennis Kelly, Tarpon Springs Florida
"It is well known that the inability to manage both internal and external stress – as well as the destructive emotions that accompany it – is a leading cause of degenerative illness, depression, lost productivity, and a host of other mental and physical ailments. Just imagine a tool that you could deploy any time or place that would provide the feedback to help you determine not only how well you are managing stress, but also how to transform it. Good news: the tool now exists and it's called the emWave Personal Stress Reliever. In addition, and just as importantly, the folks at HeartMath offer techniques that can be deployed in the moment to help ameliorate the effects of stress."
"In my 25 year career as a healthcare program developer, including the development and operation of several hospital-based wellness centers, I have never encountered a technology with as much promise as emWave. In my opinion emWave is as important to health and well being as are proper nutrition, exercise, drug and substance control, and rest."
— Joseph P. Smith, former Senior VP, Operations, NovaCare, Inc., former Senior VP, Development, Continental Medical Systems
"Awesome is the word! It's better than we even expected. HeartMath has exceeded our expectations—again! The packaging and all is superb. It's stunning the way it looks and works. I'd say this unit is 'beyond star trek'."
— Peter Storey, Sydney, Australia
"HeartMath combines leading-edge science with the wisdom of ancient healers. The Freeze-Framer® technology makes it fun and easy to practice. Now, emWave allows you to experience the stress-reducing, health-enhancing benefits of HeartMath at home, in the office, or on the road."
— Jim Castle, President and CEO, Ohio Hospital Association
"Every individual in healthcare today has to have special wiring to be successful. However increasingly, the complexity of many professional roles and the pace and pressure of external demands provide a perfect breeding ground for stress — excessive stress, at abnormal levels that exceed most individual's normal carrying capacity, eroding work performance and job satisfaction levels alike. With the release of HeartMath's emWave Personal Stress Reliever, healthcare now has a small and practical tool that enables individuals to better manage whatever professional or personal situation they encounter. It's built on the premise that a change within can dramatically impact the dynamics without, empowering the individual with increased capability to maintain balance, perspective and high performance."
"I predict emWave will have a great future in healthcare. Its broad adoption will give a positive new charge to that special wiring present in so many health professionals. Congratulations to HeartMath for developing a tool so useful for those who give so much to helping others!"
— John C. Aird, President, ABL (Adaptive Business Leaders) of Northern California, Past Chairman, California Hospital Association
"I have been using my emWave Personal Stress Reliever for the last 2 weeks along with reading 'Transforming Stress'. I never realized the power I had right in my own heart. Practicing building coherence at night and before tricky meetings has sure saved a lot of stress. Friends and family are noticing too! They've been impressed with my new calm and clarity, especially in stressful situations".
— M. Sherman, Transwestern Publishing
"I use the tools daily and have been for over 2 years, but recently I had to take a huge certifying exam, one that took hundreds of hours to study for, and it was only 100 multiple choice questions. (My amygdala was screaming, "Multiple choice has not been my friend in the past.") I used the emWave (even though I have a Freeze-Framer). It was convenient to use anywhere, anytime. First of all, my concentration was deeper and more focused. I was studying 10-12 hours daily and my anxiety level was down. The amazing part was the day of the exam I was not anxious, and I had NO anxiety during the exam. I passed with flying colors. The level of my anxiety being lowered allowed me to function at a higher level."
— Michele Lash, M.Ed., ATR, CMHC, BCIAC, StressLess (Private Practice)
What causes stress? Find out.
Find out where stress comes from and why you can't seem to get away from it? Find out more.

Find out how this unique portable training device shows you how stress is affecting your body. Find out more.