Sign-up for more infomation on emWave


30- Day G uarantee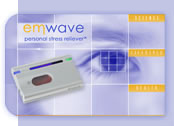 emWave® FAQs (Frequently Asked Questions)
How is the emWave Personal Stress Reliever different from a heart rate monitor?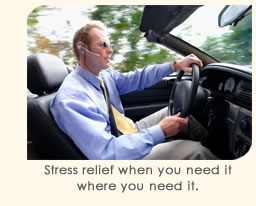 The emWave is very different from handheld devices that simply measure heart rate. The emWave Personal Stress Reliever analyzes your heart rhythms for "coherence", a term used by scientists to describe a highly efficient physiological state in which the nervous system, cardiovascular, hormonal and immune systems are working efficiently and harmoniously. A heart rate monitor only provides you with information about your average heart rate.
How does using this stress management device differ from deep breathing?
While rhythmic breathing exercises can help control your heart rate and have a calming effect on the body, shifting attitudes and emotions take more than that. Research shows that the key to learning how to neutralize and counter the effects of stress is by actively adding a positive feeling such as appreciation, care and compassion to the process. Experiencing positive emotions has a much broader range of health and wellness benefits than simply forcing the system into coherence through rhythmic breathing. Generating feelings of appreciation, care or compassion adds a dynamic element for stress management. Using the breathing pacer found in the emWave in conjunction with generating positive emotions helps synchronize your nervous system and creates positive changes in your heart rhythm patterns to create and sustain the coherence needed for stress relief.
What are some of the benefits I could expect from using the emWave and how much time does it take to see results?
Frequent users of the emWave Personal Stress Reliever report:
stress reduction
increased energy and resilience
greater mental clarity for decision-making and creativity
enhanced emotional balance and improved listening ability
better, more restful sleep
Most people get into medium or high coherence within a few short sessions and feel a reduction in stress. Using the Quick Coherence® technique, which you can read about in the manual or learn from the Coherence Coach CD included in the package, is highly recommended as it accelerates the process of learning tools for stress management. Practicing stress management techniques is the key, but results generally come quickly. Additionally, emWave includes four challenge levels so that as you practice you can continue to refine your ability to eliminate and counter the negative effects of stress.

Is the emWave Personal Stress Reliever like a biofeedback device or biofeedback therapy?
Biofeedback is a specific term used to describe the measurement of changes in brain waves. Unlike biofeedback, emWave does not measure brain waves but rather measures changes in coherence levels. Some think of it as biofeedback because it does give you information about what is going on in your body. However, emWave is based on a different scientific discipline and is not classified as a biofeedback device.

How is the emWave different from other stress management devices?
There are certainly other stress management devices designed to help people with stress and HeartMath's position is that we are very much in favor of any stress management devices or stress management techniques that can help with the mounting global stress problem.

What distinguishes the emWave from many other stress managment products is the significant body of published scientific research that has been incorporated into its development. Our 15 years of experience, validation and practical applications demonstrate the effectiveness in all of the stress management products that HeartMath offers. Additionally, emWave is just one of many products found in the HeartMath system. The system — consists of tools, stress management techniques and proven PC based technology (Freeze-Framer Interactive Learning System). All HeartMath products and services compliment each other and have been used for stress managment and increasing performance by hundreds of thousands of people in over 50 countries, and applied in Fortune 100 corporations, health care systems, government agencies and school systems. emWave is an extension of this system and carries with it the breadth of credibility and proven results associated with HeartMath.

Has HeartMath done studies to support the benefits of the emWave?
HeartMath has done numerous studies on the effect of positive emotions on stress, physiology and human performance. These studies have been published in prestigious journals including Stress Medicine, American Journal of Cardiology, Preventive Cardiology, Journal of the American College of Cardiology, Integrative Physiological and Behavioral Science and Harvard Business Review.

Can I use the emWave along with other stress management practices?
Yes, emWave works well as an adjunct to other stress managment practices. It can easily provide verification of the effectiveness of many other approaches to counter the effects of stress and can be used as a friendly facilitator of other stress management methods.

Do I need to be experienced with technology in order to use the emWave device?
No. emWave Personal Stress Reliever is very simple and easy to use. The Quick Start Guide and the owner's manual provide clear instructions on how to easily operate and immediately benefit from your emWave.

Aside from helping to reduce stress, are there other applications for using the emWave that I can benefit from?
The applications of the emWave Personal Stress Reliever include more than stress managment. Increasing your coherence level — which is the primary goal of using the emWave — increases performance. Whether or not you feel the negative effects of stress, you can use it to improve mental clarity which will have a positive effect on business, communications and creativity. Additionally, emWave provides a great way to improve performance in sports. It trains you to more easily enter into a high performance state that athletes call "The Zone".

Our 60-Day No-Risk Guarantee
If you are not completely satisfied with your purchase, you may return it within 60 days for a full refund, less the shipping and handling fees. The product must contain all of its parts and be in a satisfactory condition suitable for resale.
What causes stress? Find out.
Find out where stress comes from and why you can't seem to get away from it? Find out more.

Find out how this unique portable training device shows you how stress is affecting your body. Find out more.