Sign-up for more infomation on emWave


30- Day G uarantee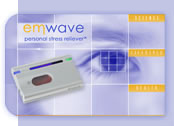 emWave Personal Stress Reliever® e-Training Products
---
NEW emWave® E-TRAINING PROGRAM
$29.95 value – Yours absolutely FREE!
The emWave Experience – Operating and Enjoying your emWave Personal Stress Reliever®
This free online interactive course takes approximately 30 minutes and is designed to enhance your emWave experience. Simply by registering at
http://breeze.heartmath.org/ewcourse1/event/registration.html you can take this course now and also use it as a refresher at anytime.
The emWave e-training modules include:
Introduction to the emWave
Features and Functions – with flash videos of emWave in use.
Coherence Coach™ Demo
Real Time Applications
Quick Coherence® Introduction
emWave Practice Session
Additional Resources
Program includes:
User controls to advance/pause slides and adjust volume.
A sidebar to allow you to navigate to specific slides, view the audio text, and search for key words.
Attachments – Navigation Guide and emWave Action Plan.
What causes stress? Find out.
Find out where stress comes from and why you can't seem to get away from it? Find out more.

Find out how this unique portable training device shows you how stress is affecting your body. Find out more.